Stictoleptura erythroptera (Hagenbach, 1822)
biology
---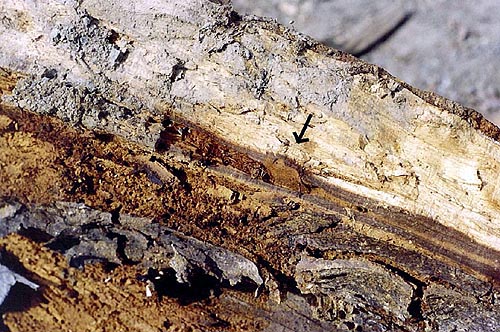 [Photo © M.Rejzek]
---
Figure 1: A typical larval substrate of Stictoleptura erythroptera; the arrow is pointing at a pupal cell built by this species.
---
This very rare species develops in hollow trunks or thick branches of various living deciduous trees where there is a convenient substrate within the trunk. This substrate comprises a 1-5 cm thick layer of a dead and extremely tenacious red-brown wood, which is in close contact with the compact heart wood (Figure 1). The species is gregarious and consequently many larvae and pupae (Figures 2 and 3) can usually be found in a convenient substrate, but this appears quite infrequently in Central Europe. This species is sometimes accompanied by another rare inhabitant of hollow trunks, Necydalis ulmi Chevrolat, 1838. In Central Europe, beech (Fagus sylvatica) is preferred, but finds from other tree species such as oak (Quercus spp.) or the horse-chestnut (Aesculus hippocastanum) were recorded as well. The protection of this highly interesting species should include a very considerate treatment of old trees, especially the beech. It is only in old trees, that convenient hollows are created. In places where the beetle occurs, felling of old trees should be reduced to a minimum in order to give the species a chance to find convenient substrate. The occurrence of this species in any area indicates a very rich and preserved environment (Figure 4).

---

Rejzek M., Rébl K.:
Cerambycidae of Křivoklátsko Biosphere Reserve (Central Bohemia) (Insecta: Coleoptera).
Mitteilungen des Internationalen Entomologischen Vereins e. V., Frankfurt a. Main, Supplement VI: 1–69, 1999.
---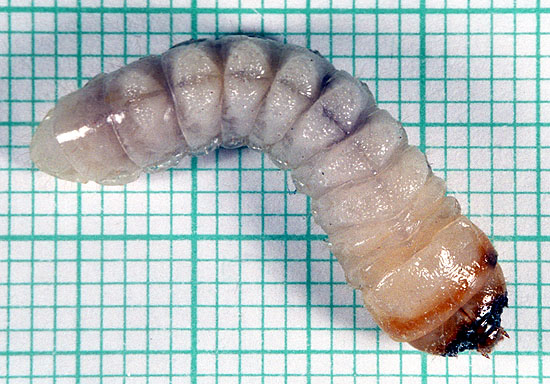 [Photo © F.Kovařík]
---
↑ Figure 2: Larva of Stictoleptura erythroptera.
↓ Figure 3: Pupa of Stictoleptura erythroptera.
---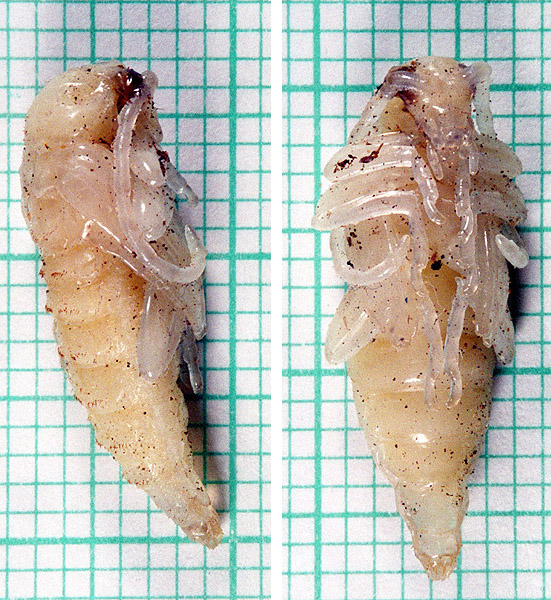 [Photo © F.Kovařík]
---
[Photo © M.Rejzek]
---
↑ Figure 4: Typical habitat of Stictoleptura erythroptera (Lánská obora, Central Bohemia, Czech Republic).