Tragosoma depsarium (Linnaeus, 1767)
bionomic remarks
---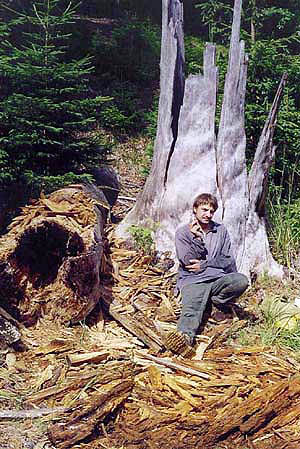 [Photo © M.Rejzek]
In Figure 1 you can see a typical habitat of Tragosoma depsarium and a dead trunk where the larvae were collected.
---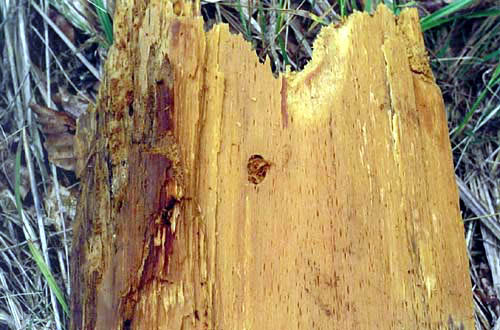 [Photo © M.Rejzek]
Figure 2 shows a detailed view of the decaying substrate with one larval gallery in cross section in the centre. This is filled with very typical fibrous frass (resembling that of Rhamnusium bicolor (Schrank, 1781) to some extent).
---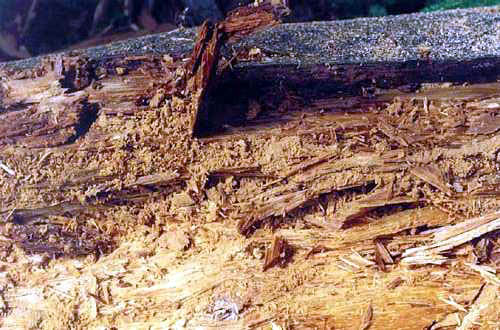 [Photo © M.Rejzek]
Figure 3 shows another detailed view of the substrate (Picea abies) where the larvae of Tragosoma depsarium fed. As you can see, the surface of the trunk is composed of compact dry and hard wood, while underneath there is rotten red-brown wood. The way in which this spruce trunk has decayed, very much resembles the decay of pines trunks containing larvae of Ergates faber (Linnaeus, 1767). In this particular trunk we were able to find several larvae of Tragosoma depsarium in various instars together with larvae of other cerambycids, elaterids and buprestids.